The Goodwrench Quest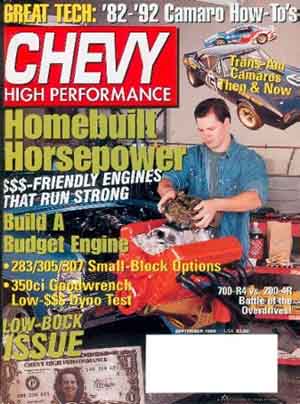 In September 1999, the magazine, "Chevy High Performance" began a series of articles that described their process of experimenting with the Chevy Goodwrench 350 crate motor.

These articles, written by Jeff Smith, provide valuable insight into the process of adding horsepower to the relatively inexpensive crate motor.

All credit for this article goes to Petersen Publishing, Chevy High Performance, Jeff Smith and the photographer, Ed Taylor. The pages seen here are used with their permission.

You can select a section from the links below or click on the "Next" button to start reading the articles at the beginning.



Part 1 (Sep 99)


Initial dyno testing of the Goodwrench motor



Part 2 (Oct 99)


Pocket Ported heads and a new cam



Part 3 (Nov 99)


Testing Aluminum Corvette cylinder heads



Part 4 (Dec 99)


Testing Vortec heads: 384HP!



Part 5 (Jan 00)


408 HP...cheap!




Click here to start at the beginning
Back to Rustpuppy.org